Customer satisfaction means everything - happy customers, referal business, word-of-mouth. Every time a customer sends back a satisfied comment there is a warm moment at MadeByGrandad. Every time a customer suggests a feature or an improvement, the design is reviewed and modified if it makes it better.
A selection of the many comments and reviews is shared here. Customer feedback in the MadeByGrandad Etsy shop is 100% 5-star.
Another beautifully crafted bag by MadeByGrandad :) This is actually the 2nd version that of the bag that I have purchased, as I originally purchased the bag for my MacBook Air. This version was custom-sized to fit the smaller dimensions of the new MacBook Pro, with very satisfying results. The profile of the bag is very slim, yet provides a good amount of protection, while expanding pockets do add convenience without adding additional bulk. At the time of writing, there aren't yet many bag options for the new MBP really... yet even if there were, this would still be my bag of choice :) It really is a beautiful-but-minimalist design that remains practical whilst maintaining a somewhat understated and elegant look. Thanks again! T
I can't rave enough about my new bag! I have scoured the internet for a bag that could easily carry my iPad, Nikon FE film camera, and various sundries. The craftsmanship is impeccable and the materials are really quality. It was definitely a pleasurable experience. I even contacted Roy about some customisations to the bag and his service and support were phenomenal.
FANTASTIC service.. shipped in super duper time. High standard stitching, good quality fabric. Excellent.



This is my second bag purchase from "Granddad" and I'm certain it won't be my last. In both cases Roy worked with me to design a bag to my specifications, and they are quite different. The first is an oversized bag intended to carry several books and folders / notepads. It is made of a wonderful Harris Tweed and works perfectly. For this bag, I wanted something better suited for everyday use. I contacted Roy, and this time he guided me to one of his standard bag designs, but with a wonderful wool cloth for the exterior. It is designed to last, carries one or two books plus a notebook, and has pen slots, zippered pockets, and several clever hidden storage areas - all of which make it as practical as it is nice to look at. I carry this bag with me everywhere I go; I treasure it, and I'm sure I'll be back for another! Thanks, Roy!
Just back from a conference in Pisa. My new lovely MacBook Air bag was a great success, exactly as hoped. Slipped easily into hand luggage on plane (at Gatwick did not even have to take laptop out of its bag!). Each day this was all I needed to carry, light and easy! Of course, a perfectly made bag. Good colour/fabric advice from Roy, looks stylish in meetings. I now have a bag for my iPad and one for my laptop. Brilliant!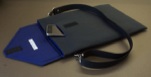 Amazing my bag is beautiful and arrived so quickly I couldn't rate made by grandad highly enough. Everything makes me smile about the bag even down to the string tied around the packaging. I urge anyone looking for a expertly made messenger bag to order one of made by grandad immediately!! A super happy customer!!!
Thank you so much Roy my bag is beautiful I love the fabric on the flap it will definitely make me smile when I have to get up at crazy o'clock in the morning while on safari!!! And it will fit ever thing I need!! I will send you pic of it in action when I return thank you again I'll be raving about this bag to everyone I know!!!

Of all the great things I could say about this purchase, my interactions with Roy stand out as the best part. He's helpful and friendly, asking just the right questions and offering great suggestions to guide you to the perfect design for your custom-made bag. He then works amazingly quickly - within a few days your purchase is shipped. Everything about the process exudes quality, from your initial interactions, to the packaging, and finally the product itself. The bag Roy made for me fit my needs perfectly, and it looks fantastic. The Harris Tweed is beautiful, and the adjustable shoulder strap makes carrying lots of books and papers a breeze. I can't recommend MadeByGrandad enough; I'm sure my bag will be a family treasure for generations!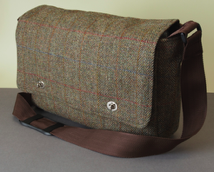 It is excellent and exactly what I was after! Thanks :) Exactly what I wanted: slim, has a strip and a pocket for some miscellaneous items too. I use it with MacBook Air 13". I'm sure to recommend your products to my friends and co-workers too!